Key chain zinc alloy, the main component of which is about 95% zinc, aluminum is between 3.5% ~ 4.3%. The contents of copper and magnesium are in the range of 0 ~ 0.15% and 0.03% ~ 0.15%, respectively.
Zinc alloys have good die-casting properties, making it easy to make a variety of complex shapes and high precision workpieces and solids. It also has the advantages of small follow-up machining, low production costs, and good mechanical strength, and has been widely used in the automotive and motorcycle industries. Construction, daily hardware, and other industries also have zinc alloy die-casting products.
1, Zinc alloy key ring has the advantages of corrosion resistance, wear resistance, aesthetics, etc. Keychain is an indispensable item in people's daily life, the appearance of zinc alloy keychain is widely favored by the public, Let's take a look at the advantages and characteristics of zinc alloy keychain with me.
2. Nowadays, the keychain that people usually wear is no longer as simple as the past. Traditional keychains are monotonous and are generally made of pure metal. Not only are the shapes and colors simple, but they are also easy to rust and have a soft texture.
3. Due to the excellent plasticity of zinc alloy, non-stick iron when die-casting, and good fluidity, there are more and more styles of zinc alloy keychains. At present, many zinc alloy keychains are electroplated on the surface, so The color of the keychain is also colorful. This is a new type of zinc alloy keychain product, which is made of zinc alloy. The improvement of its material has also increased the practical and aesthetic value of the keychain.
4. Zinc alloy key holder is made of zinc alloy material. Zinc alloy key holder has the characteristics of traditional keychain, high strength, hardness is very strong, very durable, not only that, In addition to its advantages, it also has beautiful shapes and beautiful colors. It can be designed according to your preferences. The shapes are more exquisite and the production processes are more. It is now a new type of beautiful and fashionable products. Mainstream keychain.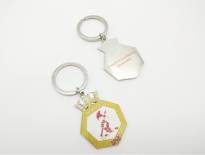 Zinc Alloy Key Holder
Our years of experience and accumulation, our integrity and service, have been unanimously affirmed and praised by customers in various industries, and won goodwill for the enterprise.
We are the metal key holder supplier. "Customer trust" is the goal pursued by our company, and we always use this to strictly demand ourselves and have cooperated with many brand companies. We look forward to providing you with the most comprehensive gift solution and the most complete products and services at the most critical time.