Custom Military Pin Badge Supplier to share with you: Early badges were draped in cloth and cut to highlight the color and pattern.Since embroidery was a decorative art, these cloth badges naturally included patterns and words.Unlike other decorative forms of weaving, such as weaving and knitting, embroidery is the addition of something to an already woven fabric.Today, some badges are made by hand, some on single-head sewing machines, and the big ones are embroidered on shuttle embroidery machines and multi-head machines.The woven emblem is similar to the logo on shirts and jackets.A large number of microseals can be made on the logo machine, which looks and feels like a logo.They lack the three-dimensional effect of embroidery, and the colored ones are expensive, so the wearing effect is not as good as that of embroidery.The main advantage is that you can make the text small, smaller than any other way.
If custom Pin Badge make large amount of time can be very cheap in the manufacturing, production weighs little, boot and pattern design of the high cost of weaving is usually soft micro chapter, and the need to use solid liner woven micro chapter and shirts and jackets, similar to a trademark of big badges can make to the trademark machine, in the look and feel like a brand they lacked the stereo effect, embroidery and color is very expensive, wearing effect is not as good as embroidery main advantage can be to do the word is very small, smaller than any other way Woven micro chapter is according to the production of woven, knitted fabric weave pattern color at the same time line control by Jacquard device, thus forming badges figure reflected printed badges (printed and screened emblems) : you can use pattern in dyeing and printing and the spray coating of color and words printed on cloth on micro chapter o however its durability and to be able to wear away from sex difference is the advantage of this approach can be a small amount of production, because of the low cost of equipment.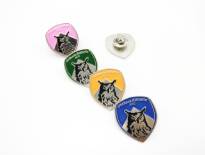 Custom Pin Badge 
Gold and silver badge (ullion) : use this badge is handmade, it is most common in Pakistan and Jordan gold wire and silver wire directly with the hand embroidered on the naval officer hat pattern is formed on the base cloth of the egg-shaped chapter, from the commander to the five-star general badges and some golf and country club membership wearing badges are the typical example of embroidery micro chapter do this kind of micro chapter particularly time consuming, especially dull, although there are lots of people gaining the work, but it is hard to find a good hand embroidered by hand (hand embroidered); This is a kind of unique appreciation sex and a badge with ordinary today very few people have time to do this era of embroidery it with his bare hands on the sewing machine with similar to the shuttle machine thread embroider a micro chapter at a time, it needs to have a certain artistic skill is this kind of art by punching the sketch and spilled the carbon pattern on the fabric or from a sketch with a soft pencil down in China, in this way to transfer pattern on the fabric sewing worker then mobile fixed fabric band with the hand, at the same time operating on the sewing machine needles for this job to steady hand, eye, the most important thing is to through long-term practice in order to have good skill It was not until the mid-1970s that it became common, thanks to the use of computers, because computer tape could be reproduced perfectly in a very short time on a multi-head embroidery machine, and this manual art began to die out.
Photo micro chapter (photo emblems) : this badge requires a 4 color film, film of the isolation and sublimation method to print on the polyester fabric badge and thermal printing film stuck - to harden, then package edge through this method directly to the color image stamp on the fabric, to form the final badge floss badges : Paper lining refers to the stick at the back of the embroidery badges at fixed fabric, convenient embroidery Paper lining is in the embroidery, embroidered after finish, if you want to add back glue, on the other machine after add back glue added back glue embroidery badge is no longer the embroidery of the magic stick is a kind of embroidered badges: refers to the nylon two rows, one is a myriad of small hook, another is a small round hole, when the two together, they can be tightly stuck its characteristic is durable, easy to open, can wash, there are many different kinds of color