What kinds of badges are there?The custom Military Pin Badge supplier would lile to share with you.
1. Imitation Enamel Pin Badge
The manufacturing process is similar to that of enamel insignia (cloisonne insignia), which is different from real enamel in that the insignia USES different enamel pigments (one is real enamel, the other is synthetic enamel, imitation enamel).
Imitation enamel insignia, exquisite workmanship, enamel color surface smooth, especially delicate, give a person a very high-end feeling. It is the first choice of badge making craft. If you want to make a beautiful and high-grade badge first, please choose imitation enamel badge.
2. Stamping Badges
Stamping badges are generally made of copper (copper, red copper, etc.), zinc alloy, aluminum, iron, etc., which can also be called metal badges. Among them, because copper is the softest and most suitable for making badges, the lines of the copper pressure badge are the clearest, followed by the zinc alloy badge, and the price of the corresponding copper pressure badge is also the highest. Stamping badge surface can do a variety of electroplating effects, including gold plating, nickel plating, copper plating, copper plating, silver plating and other different electroplating effects. The concave part of the stamping badge can also be processed into a sanding effect.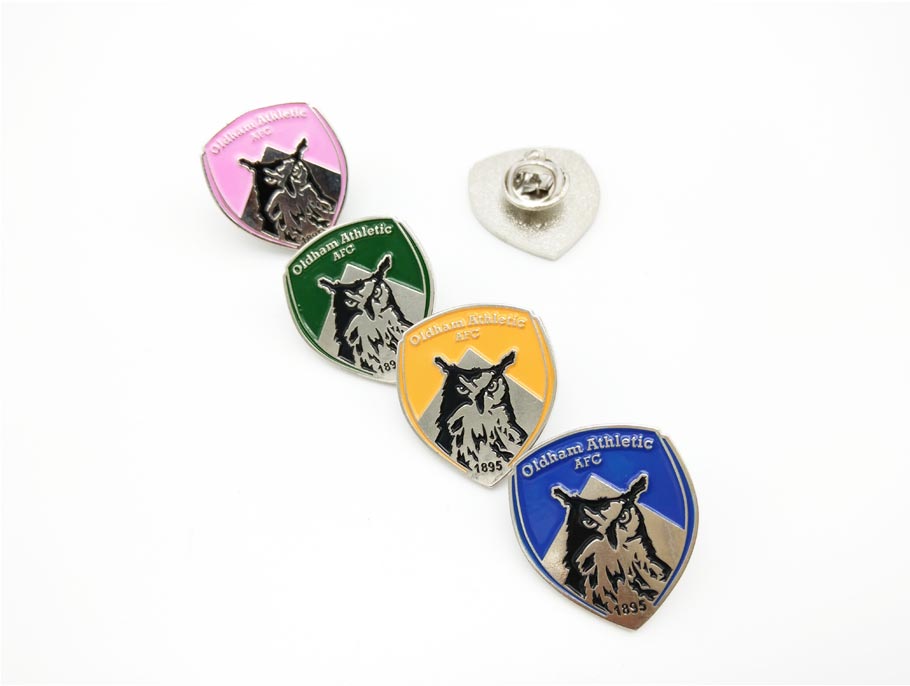 3. Print badges
Divided into screen printing, plate printing. It is also called the glue drop badge, because the final process of the badge is to add a layer of transparent protective resin (polly) on the surface of the badge. The materials used are mainly stainless steel and bronze. The right picture shows the back effect of bronze. The copper or stainless steel surface of the printed badge is not electroplated, but treated with natural color or brushed.
Screen printed badges are mainly for simple graphics, less color.
Lithography: for complex patterns, many colors, especially the gradient.
That's all for the sharing,and we supply custom Enamel Pin Badge for sale, if you have any demand for our products,just feel free to contact us.