During the anniversary of the company, how do we choose a custom manufacturer that is suitable for ourselves and reliable? Now more and more enterprises are customizing souvenir coin at the annual anniversary celebrations and corporate annual meetings. This not only expresses the company's concern for the employees of the company, but also transmits the corporate culture to the outside world. At the same time, it can also give customers the idea of spreading the enterprise. It is a three-pronged one. So it is very important for the company to customize the metal commemorative coins in the end. How to choose the reliable commemorative coin manufacturers? The Shanghai One Coin Mint Co., Ltd. has compiled the four traits expected by the metal coin custom manufacturers to assist us:
First, the inductive strength reference is to evaluate the product development, commemorative coin artwork design, coinage manufacturer, all central process manufacturing technology, messy process processing, so that we can see the full strength of a metal coin custom manufacturer, Orientation reference exploration, not blind, more comparison.
Second, determine the raw materials, when customizing the commemorative coins, pay attention to the price with the custom souvenir coin wholesale manufacturers, and pay attention to the selection of raw materials, prices, and then according to the market conditions, one by one, neither too high nor low is the most good to pick and learn to investigate purity, beware of being deceived.
Third, look at the overall production capacity level, depends on the overall area and status of their factories, the number of all advanced equipment, all the problems that arise during the process of processing, what process technologies can be done, the entire delivery cycle, after It is important to see that it is not necessary to delay the delivery of goods within a certain period of cooperation and not delay our work schedule.
Fourth, this metal coin custom manufacturer handles the problem of the customer. In fact, the customized metal commemorative coin is not just a custom gift, but a problem, dealing with the gratitude between the company and the employee, caring about the problem, if a small matter Once again and again, it can't be solved and pushed off, so this custom manufacturer has problems. Dealing with the trust and cooperation between customers and enterprises, and customizing gifts in different application scenarios, we must also experiment with the use of the scene to achieve the true value of the gift.
All of the content shared today, our company is a custom metal coin supplier specializing in gifts and custom gift services. Our products are rich in variety, badges, medals, coins, keychains, lanyards, etc., can also be customized. The products are sold overseas and are very popular among customers. If you want to know more information, you can log in to our website for detailed consultation, we look forward to your contact.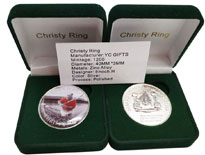 souvenir coin