There are many keychain shapes, such as cartoon shapes, brand shapes, simulation models, etc. The materials are generally copper, aluminum, rubber, plastic and so on. The zinc alloy is mainly plated with nickel or rhodium. Keychains have become a small gift.
Couple buckle
Couple Keychain is the latest development of zinc alloy keychain jewelry, a craftsmanship product promoted by brand promotion merchants, and also a novel gift. The back can also be laser LOGO, personalized key chain.
Product use: corporate brand promotion, new product promotion, tourist attractions, souvenirs, school souvenirs, advertising and other industries commemorative promotional items.
Car buckle
Car Keychain is the latest development of zinc alloy automotive supplies. The surface is rust-proofed by dripping oil or rare metal plating. It is a beautiful gift for car owners in 4S stores. Accessories, personalized fashion items.
Product use: corporate brand promotion, new product promotion, souvenirs and other commemorative promotional items.
Car keychain
The car plastic key holder has become a small gift, which can be given to friends or yourself to express your heart.
Memorial buckle
Fuwa is the mascot of the 29th Olympic Games in Beijing in 2008. Its color and inspiration are derived from the Olympic rings, from China's vast mountains and rivers, rivers and lakes and people's favorite animal images. Fuwa conveys to children all over the world a friendship, peace, a progressive spirit and a beautiful desire for people to live in harmony with nature. Fuwa is five cute and intimate friends. Their shapes incorporate the images of fish, giant panda, Tibetan antelope, swallows and the Olympic flame. Each doll has a catchy name: "Bei Bei", "Jing Jing", "Huan Huan", "Ying Ying" and "Ni Ni". In China, the superimposed name is one of the favorite expressions for children A traditional way. When you link the names of the five dolls together, you will read Beijing's gracious invitation to the world, "Beijing Welcomes You". Fuwa represents dreams and the aspirations of the Chinese people. Their prototypes and headdresses contain their connection to the ocean, forest, fire, earth and sky, and their image designs apply the expression of traditional Chinese art, showing China's splendid culture.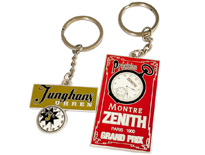 Metal Key Chains
Crystal buckle
Crystal and cast steel are made of exquisite and durable materials, which are very popular with young friends. In the beginning, ROC may have considered the "cold shape" of the hardware. From these keychain designs, it changed from the past. The exquisite shape is very attractive to the little girls. And the arrival of summer is also a very good decoration.
Solar button
Solar flash keychain is the latest developed and produced solar application product. It uses the power supply principle of low-light amorphous silicon solar cells to make high-quality LCD flicker and light. It is a branded craftsmanship and novel gift. Symphony LCD display, full of fun and sense of technology!
Product use: corporate brand promotion, new product promotion, tourist attractions, souvenirs, school memorabilia. Commemorative plaques for the opening of hotels and hotel buildings and commemorative promotional items in the banking, telecommunications, network, insurance, post and telecommunications, communications, railway, aviation, shipping, advertising and other industries. The front is flashing on one side, and the back is laser paper.
In addition to static buckle
Functional electrostatic keychain is a PVC key holder with static electricity that eliminates the daily life of the human body, cars, computers, household appliances, etc. When using the keychain to touch static-charged objects, static electricity can be eliminated.
Product Features
Wide: It can eliminate all static electricity in daily life (excluding industrial static electricity), such as the human body, cars, computers, and metal objects;
Fast: Static elimination time is 0.2 seconds 3 seconds; Best: can completely eliminate static electricity hazards;
Safety: No toxic side effects and dangers, absolutely safe and environmentally friendly products.
Instructions
1. Touch the oval touch button with your thumb, no need to force.
2. Then use the conductive material on the product's head to contact the conductive body (such as: car, human body, computer, iron railing, metal object, etc.) to discharge. The LCD screen pattern will be completely displayed during discharge.