Medal customization: how to recover quickly after a marathon? Shared by custom logo Medal supplier.
The marathon is finally over and the medal is in hand! Wow!!!! Excited! Excited! Take photos of the sun ring! You can't wait to share the joy with your family and friends. But don't forget, there are more critical things you can do that can seriously slow your recovery.
Don't stop
Carry your MEDALS, food, and water, then continue walking for at least 10 minutes to prevent blood from rushing to your legs and gradually restore your heart to a resting state. While your legs can be tiring, sitting down too early can leave your body stiff and tense, leading to a slower recovery.
refuel
Eat carbs and protein within 30 minutes of running. If you have no appetite, bring a recovery drink. Within a few hours, try eating a regular healthy meal that includes carbohydrates and protein.
Marathon medal
To keep warm
Change out of your running clothes and put on dry ones as soon as possible. After crossing the finish line, your core body temperature starts to drop rapidly, and at this point, wearing wet clothes can make you feel chilly.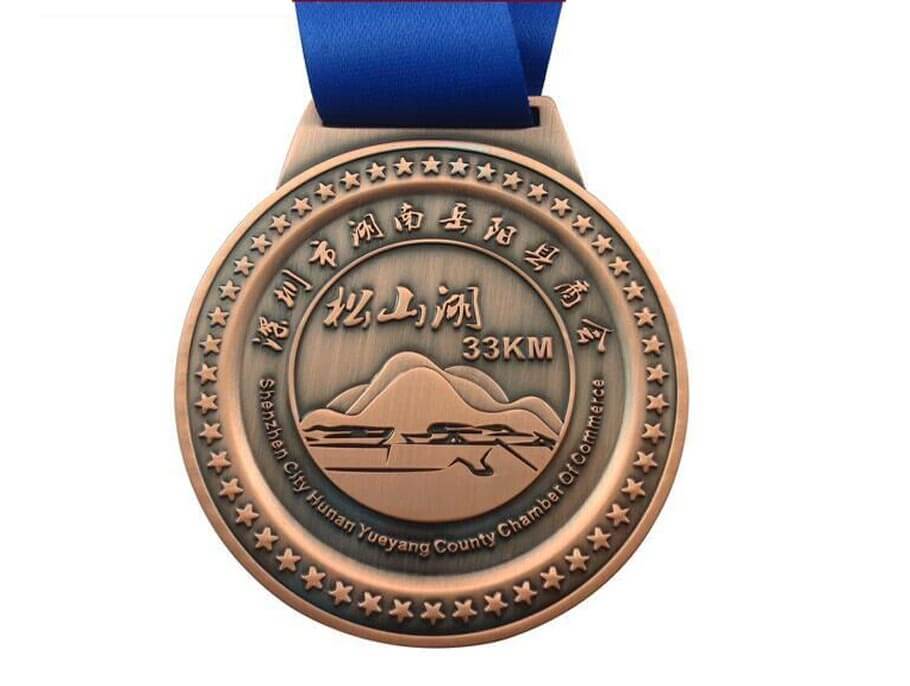 Custom Logo Medal Supplier
Recovery squats after running
This gently stretches your back, hips, thighs and calves, encouraging fresh blood to flow to those areas without any equipment. Take a few deep breaths slowly. When you are ready to stand up, lift your head and move slowly. If you need help, ask a friend or a race volunteer to pull you up.
Massage
Don't get a massage until 24-36 hours after the race. After the muscle pain from the race is relieved, a deep tissue massage can be given to relieve the pressure. After the game, if any, you can also get a light massage -- just don't let the other person touch any area of muscle tension.
Energy supplement
To recover quickly -- whether you're resting next month or running another race -- it's important to refuel and rehydrate within 30 minutes of crossing the finish line.
After finishing the marathon, take 500-700 ml of fluid as soon as possible to replace the water and electrolytes lost in your sweat. If it's hot or humid during a race, or if your sweat is salty, choose sports drinks that help replenish electrolytes. Always sip fluids on the day of the race. The color of your urine can indicate whether your body is dehydrated -- it should be light yellow. If it's a darker color, like apple juice, you'll need more fluid.
For food, aim for 15 to 25 grams of protein and 1.54 grams of carbohydrates per kilogram of body weight (for example, a 54kg athlete may need about 83 grams of carbohydrates).
Regardless of your grade, you've been training hard for months, dedicated to your goal, and just finished a distance that most people would only dream of someday. Celebrate this moment.
Honor medal, exclusive customization, witness your glory moment, YC Metal Gift (Zhongshan) Limited. Specialized in gifts and premiums with very good record in past 8 years. We supply lapel pin, badge, medal, Coin, key chain, lanyard, PVC Keychain,Patch and silicone wristband, and they are widely use at the events of festival, celebration, games, party, school, police, military department etc.