Custom Challenge Coins are a relatively new fashion. In the past few years, people of all ages have used Challenge Coins, but the history of these coins can be traced back to several centuries. Some would say that these coins originated before the settlement and colonization of North America. However, regardless of the development time of these coins, we all know that they have been used as important souvenirs to commemorate unity, confidence, and remembrance since the beginning.
Office workers and sports teams are using them to build bonds that money cannot buy and to give them to young people when they graduate or celebrate becoming a homeowner, find a new job, or give birth to their first child. They are used to our relatives when they spread to another world. They provide us with something physically tangible that we can hold and extend a concept of existence into our palms, sometimes unable to describe with words, ideas, or images.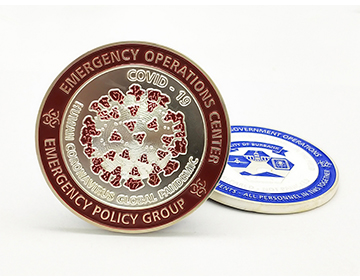 Challenge Coin has become a great way to remember and commemorate special events, people, and places in our lives. They have also become good gifts for others.
What is a challenge coin?
The challenge coin is a small round object made of different types of metals. They can be made of silver, bronze, copper, or brass. They can be tailored specifically for your loved ones, or they can be mass-produced and made available to graduating classes or various branches of the military. They should always be carried in your pocket and often remind you of special events or groups. They are designed to bring a sense of belonging and camaraderie, but they have many meaningful purposes beyond that.
The advantages of carrying a challenge coin with you
Challenge COINS are small in size and easy to transport
Made of fine brass, but not heavy
It fits perfectly in your pocket
Serve as a reminder and a memento of a special time or person or place that affected your life or at least made you a part of it.
They are tangible representations and tangible souvenirs of a particular chapter or event in your life.
They remind you that you are connected to the past in a special way.
They remind you that you are part of something bigger than yourself, and by carrying this coin, you will never be alone.
Why would challenge coins be such a great gift?
They are cost-effective
They are a great way to show that you care and have been thinking about a person in a particular, non-traditional way
They are very personal and therefore very unique; Of course, unless you want to buy several of the same challenge COINS, no one else on earth will have exactly the same challenge COINS as you.
Pay tribute to veterans with a challenge coin
It's a good idea to pay tribute to veterans with custom challenges COINS. Here's why.
Build brotherhood. Giving veterans a coin challenge builds solidarity and creates a special sense of friendship among veterans that is hard to find elsewhere. They also provide light for any invisible connections that still exist between the veteran and his companions. For example, giving a coin, especially after a veteran has participated in this service for several years, is a good way to give him or her a coin to remember where it went. It's a great way to remember that they used to be a part of something bigger than themselves and that they played a key role in their service to their country.
Give hope and help depression. A gift of Military Souvenir Coin could bring hope to veterans who might suffer from depression.COINS connects them to the past in a way that they cannot be remembered because they are tangible. Just like photos, it can trigger new memories and bring back old ones. Sometimes, revisiting these memories can help heal someone who needs to move on and forget or even recover from a traumatic experience.
Inspire loyalty. Challenge COINS can inspire loyalty in new ways. Anyone who has ever joined a team knows that friendship and solidarity, the bonds of creation, are one of life's greatest gifts. For most of us, being part of a high school sports team is one of the best, most cohesive experiences of our lives because we feel like we belong. We trust and support each other as teammates and friends.
Participating in the military is exactly the same thing, except sometimes the connection is deeper because your life is literally unworkable and the person standing next to you is actually in charge of finding it. Giving challenge money can revive those memories and inspire veterans to remain loyal in new ways.
Bridging the gap between then and now. For veterans, active or inactive, after only a few weeks of "civilian life" in war, it feels like an eternity or a decade. Days may pass, but for veterans, it seems like years. Giving a coin challenge gift can be a good way to let veterans know that their "distant past" is still a part of their present. Although they may have changed, and time may have changed their surroundings, nothing can change their past experiences. It's still special and important, and it's important to remember their period.
Say thank you. Giving a coin challenge gift is also a great way to say thank you and one of the best ways to honor a former veteran. That's another way of saying, well done. Thank you for meeting us. We hear your voice. We thank you and all that you have done for us and our country. The best part is that even after you've given the challenge coin, and after you've said these words, the challenge coin will continue to exist in their pockets, hearts, and minds when everything starts to fade away. Challenge COINS are durable.