If you want keychains to look good and durable, then go to a professional manufacturer of keychains. Keychains manufacturers provide free designs and keychains. You have to choose a factory with strong strength and can customize LOGO according to customer requirements Business, keychain production is more professional, general keychains are divided into:
1. PVC soft rubber keychain: Also known as pvc keychain, as it is produced by the glue-dropping process, it is also called glue-dropping keychain and micro-keychain. PVC soft rubber keychain has the advantages of diverse shapes, bright colors, and long service life. In addition, PVC keychains can be shaped. Soft plastic PVC keychain has the characteristics of environmental protection, no odor and no pollution.
2.Acrylic keychain: It is plexiglass, divided into imported materials and domestic materials, hollow and solid, transparent, and can put colored paper in the middle; the hardness of acrylic determines the degree of wear of the keychain. Acrylic is currently lower than 3H The surface is easy to bloom. Compared with traditional ceramic materials, acrylic has high brightness, good toughness, and is not easy to break; strong repairability, as long as you use a soft foam dipped in toothpaste, you can wipe the sanitary ware; the texture is soft and there is no cold biting Sense; colorful, can meet the individual pursuit of different tastes.
3. Zinc alloy metal key ring: Zinc alloy is also one of the more malleable metals. Generally, the surface is rust-proofed by dripping oil or plating rare metals.
4. Leather Case Keychain: Sewn with leather, divided into genuine leather, imitation leather, PU, a keychain with a small lamp embedded in the middle, which can also be used for lighting at night or in a dark place
5. Solar keychain: There is a solar panel in the middle, and when the sun shines, the pattern inside is looming.
6. ABS material three-dimensional key chain: Open an injection mold, use ABS material to inject, and then color, because the cost of mold opening is high, generally the amount is relatively large. Much better than PVC.
7. Crystal keychain: Generally made of artificial crystal as a material, it can be made into various shapes of crystal keychain, the cost generally ranges from one to tens of yuan. Crystal has become a favorite of fashion, crystal is a symbol of purity.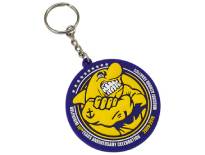 Pvc Keychain
Since there are so many keychains, what kind of keychain should we choose? I recommend the PVC soft keychain.

Silicone key holder has a variety of shapes, such as cartoon shapes, couple shapes, car logo shapes, brand shapes, simulation models, etc., plus customizable LOGO is a good channel for companies to spread company culture. To meet the customization needs of different customers, can be customized according to the size and shape they want, has become a new product that people like and are willing to buy. The silicone material is completely environmentally friendly and non-toxic, and can pass relevant environmental protection tests or food-grade certification. In addition, the keychain has become a small gift. It is a good choice whether to send it to friends and relatives, or to promote yourself.
PVC soft plastic keychain is not only very lightweight but also very wear-resistant. When perfectly matched with the stylish appearance, it can reflect the taste and personality of different shapes. Choosing the key with your favorite keychain not only reflects Personal mood and personality can better show your taste and bring you a more happy mood.