There are few things more heartfelt than a personalized gift.
We all know the struggle of trying to find a unique gift for the people we care about.
It seems like everything has been done a million times. How often have people received coffee mugs, flowers, or gift cards?
Embroidered custom PVC patches, on the other hand, are guaranteed to make a gift special. They automatically show that you've put a lot of thought into the gift, and whoever you're honoring will feel like you care about getting something especially for them.
Patches might not be the first thing that come to your mind when it comes to gift-giving, but they can be great purchases for everyone in your life. Read on to find out why embroidered patches are perfect for special gifts.
1. It Makes the Gift Unique
Whether you're just giving a patch by itself or sewing it onto something else, embroidered patches automatically make your gift unique.
First of all, you don't have to stick to the patches you find in fabric stores. You can also design your own patch to fit your personal vision or ideas.
Want to create embroidered PVC patches of your friend's name in their favorite color? Done. Does your partner love
Does your partner love traveling? Make a patch for each city that they've been to as a way for them to memorialize their different trips.
The possibilities are endless.
2. You Can Customize Anything
Besides the ability to customize your own embroidered patches, you can also make ordinary gifts more intriguing with a patch.
If you're willing to take a bit more time, you could sew patches onto clothing to suddenly make a mass-produced item of clothing one-of-a-kind. A pair of jeans could gain some flair, or a favorite ball cap.
An embroidered patch can make even the most basic item into a gift customized for one person. That will automatically take your gift to the next level!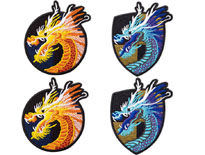 Embroidery Patch
3. Embroidered Patches Are In Style
By this point, you might be convinced that patches are great gifts — but do people still wear them? After all, people usually associate patches with the nineties.
This a great question, but there's no reason to worry.
The great news is that embroidered patches are coming back into style after falling out of favor for a bit. Designers are even embracing them in brand new clothing lines.
Once a style hits the runway, it's only a matter of time before we see them every day on the street. Whoever you give a patch to will be ahead of the fashion curve.
Friends help friends become street style trendsetters.
Choose from existing designs in cheap PVC patch supplier, or shoot us an email with your own high res PDF, JPG, or PNG file to see your creation come to life. We're ready to help you create the perfect patch!