Now, merchants, enterprises, Shop owners, etc. like to use PVC Keychain as a small gift, given to customers, buyers, fans, etc. And this behavior trend is increasing. In today's society, almost everyone has a key, but the small key is easy to lose and it is not convenient to carry. To prevent the loss of the key, everyone will use a keychain to connect the keys in series. , PVC keychains have gradually become corporate, Taobao merchants and other promotional gifts, the following will analyze the reasons why PVC keychains have become these business enterprises as promotional gifts.
1, Custom PVC Keychain raw materials are highly plastic, can be made according to customer needs different patterns, not only can customize the company's logo, can also be related to the company's activity theme mascots and product appearance patterns, can be printed Two-dimensional code or phone number, etc., as long as you can think of the pattern, can be reflected on the PVC keychain.
2. The production cost of PVC keychain is relatively low, and the least amount of money can be spent to maximize the value of promotional gifts.
3. The key is an item worn in daily life. Through a stylish keychain, customers can see the above product information every day, improve the visibility of the product, and integrate walking advertisements into actual life.
4, PVC key ring manufacturing cycle is short, production speed is fast.
5, PVC keychain pattern image is realistic, the three-dimensional sense is very strong.
6. In the era of information explosion, people 's aesthetics and interests are constantly changing. After new movies, cartoons, games, and anime works are continuously created, PVC keychains can carry cartoon characters, animals, and other works in these works. By designing PVC keychain products derived from these works, the cartoon image becomes a reality and keeps up with fashion trends.
Car key chain, also known as car key chain. Including car key ring, car key chain, car key hanging, etc. The materials for making car keychains are generally metal, steel, leather, plastic, wood, etc. This object is exquisite, small, and ever-changing in shape. It is a car accessory that people carry with them every day.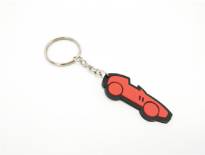 Custom Pvc Keychain
There are many keychain shapes, such as cartoon shapes, brand shapes, simulation models, etc. The materials are generally copper, aluminum, rubber, plastic, etc. Currently, the zinc alloy is mainly plated with nickel or rhodium.
A car keychain is a decorative item hanging on a key ring. Choosing the key with your favorite keychain not only reflects your personal mood and personality, but also shows your taste and brings you a happy mood. The car keychain has become a kind of gift. It can be given to a friend or yourself to express your feelings. Some car keychains carry the car's LOGO, and some are used to protect the car key shell from damage. And the car keychain will have a car logo on it.
A custom plastic keychain supplier believes that for everyone who loves cars, cars represent a taste and a way of life, and those who love cars will make every detail of the lifestyle Everywhere is unique, from the exterior to the interior, including a small keychain.