A lot has been written about the history of Challenge Coin. It has been an extremely important part of the U.S. military tradition for decades. The coin is a symbol of the "corps spirit" and unit status, and the pride of military personnel. As the years passed, they were also commended for the outstanding service provided by any of their military personnel to his country.
The long-standing tradition is still in use today, but it goes far beyond military units. The value and principle of the military challenge coin have been used for reference by all walks of life, and they admire it. The tradition of sharing and promoting custom challenge coins has been extended to:
• University campus groups
• Scout troops
• Church congregation
• Various clubs
•Professional and amateur sports teams
•Professional Association
• City Chamber of Commerce
•Social groups
•Charity Organization
•Professional Department
• Firefighters and law enforcement
Unique reward
Hundreds of new members are registered every year, and they are spread across New York, Massachusetts, Rhode Island, and other regions. The "Easy Rider" in Northeast and New Jersey's "groundhog travelers" also use challenge coins as their club reward system. a part of it. They are awarded to members who have made outstanding achievements in community service and outreach. These outstanding members who will receive customized challenge coins will become inspirations and role models for other members. The coin was presented by George K. Meister, a founding member of Garden City, New Jersey.
This piece has a matte copper-plated design with a size of 53.6 mm and a thickness of a few millimeters. It is made of alloy metal with the group's logo printed on the front. The coin also engraved the year the club was founded "2001". The back of it shows the well-known slogan and its locally initiated creed, "Cross the chasm-provide help."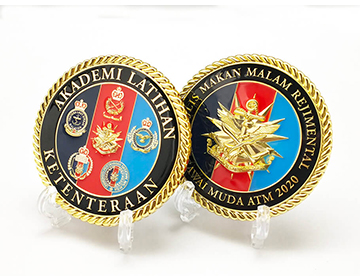 Custom Military Challenge Coins
Fine art
The Chesapeake Youth Choir is the first public school organization in the history of the United States to provide all musicians, volunteers, and staff with challenge coins. It has left a mark in history and upholds this tradition. To Chesapeake, Virginia, the USA in 1999. This tradition continues to this day.
Well-known club
In 1998, another leisure club created its own challenge coin and offered it to its members. The name of this club is Big Elk. The owners and members of the club feel that their goals for sharing special bonds and serving the country are the same. This coin is part of the tribute of the Elk members to the people who selflessly serve the local community. Unlike other coins, anyone can buy Elk's coin for $18. The finish is customized to 41mm size. The base material is made of bronze. It is designed with the "elk" logo and the national creed is printed on the back of the coin.
Today, many non-profit organizations also use customized tokens in their fundraising activities. They realize that its popularity will help them raise funds for projects aimed at helping certain veterans groups. Others ventured into the business of collecting and selling them on famous auction sites. They know that as the demand for this type of business has increased, this idea will become the focus of the market. In addition to organizations, clubs, and companies that use it as part of the reward system, many people are hooked on the process of collecting earlier customized coins. In fact, their business even expanded to provide coin collectors with a single coin holder with acrylic coating and some wooden display cabinets to properly display and protect their collections.
Are they expensive?
It's really not that expensive to create, design, and manufacture challenge coins. Most companies, including us, provide professional design services, which are completed by personnel trained in computer graphics art. The initial renderings of these artists are coins that can be made or destroyed.
manufacturing
Basically, Custom Military Challenge Coins are processed with metal infused with die-cast bronze or zinc alloy. The difference between the two lies in the cost and quality of the material. Zinc alloy is cheaper than die copper, but in terms of quality, the former is relatively better, while the latter has higher and higher quality. For zinc alloys, it is not recommended to carry them as pocket coins, because base metals are easily worn out, so base metals are easily exposed. If only coins are displayed, then zinc alloy will already be a good material to use. For those who want better quality and are willing to spend more money, they should choose bronze.