The challenge coin is a metal medallion with an organization logo or a custom logo. A group of members carried souvenirs and challenge coins that are popular with military personnel to prove their membership, improve morale, and commemorate contact. Challenge coins can also be used as rewards for outstanding service and behavior, and are often sought after as collectibles.
Choose from hard enamel, soft enamel, screen printing, die or mix and match process
No mold/mold loading required, no matter how large the quantity is
Available in 2D and single-sided and double-sided.
Several metal finishes are available
Customizable shape, size, thickness
Shape
Although the shape of Challenge Coin is usually round, it can provide any shape, including square, oval, or almost any custom shape you want.
Finish
From simple tin to 24K gold, the surface treatment is very rich. Custom coins usually only use a few basic metals, such as zinc alloys, but can have a variety of patina finishes, including gold, silver, nickel, brass, copper, and antiques.
Military Challenge Coin Legend
Legend has it that the challenge coin originated when a wealthy World War I service member bought medals (or coins) for his squadron pilots to boost morale and commemorate their connection. A pilot cherished the gift and put the coin in the small pouch around his neck for safekeeping
Unfortunately, the pilot was shot down behind the enemy, captured, and stripped of all identities to prevent him from escaping. The pilot was lucky enough to escape the enemy and safely return to friendly territory.
Without identification, he cannot prove his loyalty. He was mistaken for the enemy's saboteur and was executed immediately. Desperately, he took out the challenge coin from the pouch and displayed it, hoping that someone would recognize his squadron badge. Fortunately, his identity was confirmed and his life was saved.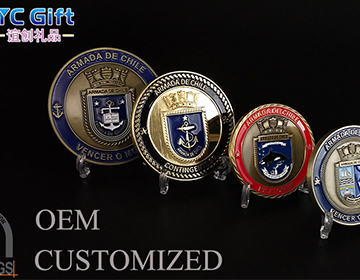 After returning safely to the squadron, it has become a tradition for all members to carry coins anytime and anywhere. Today, many military units, squadrons, departments, and agencies are actively using challenge coins as a form of identification.
We are the challenge coin maker, we bring you customized challenge coin army and unparalleled quality, as well as the lowest price guaranteed in the industry-deadline!